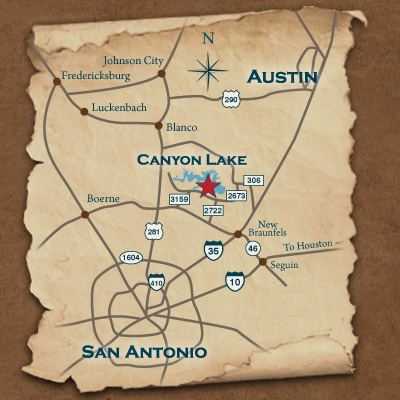 Nestled on Canyon Lake in the Texas Hill Country
Tucked away on the south shore of
Canyon Lake
, Las Brisas is convenient to major metropolitan areas while offering the peacefulness of
Texas Hill Country
living. Only 15 minutes from
New Braunfels and Gruene
, 30 minutes north of
San Antonio
, an hour southwest of
Austin
, Las Brisason Canyon Lake is the premier address for your exclusive lakeside home.
Las Brisas Sales Office
Sullivan Hill Country Properties
Located near Las Brisas at Ensenada Shores
8529 FM 2673
Canyon Lake TX 78133
210-725-5201
paul@ensenadashores.com
New Area Growth!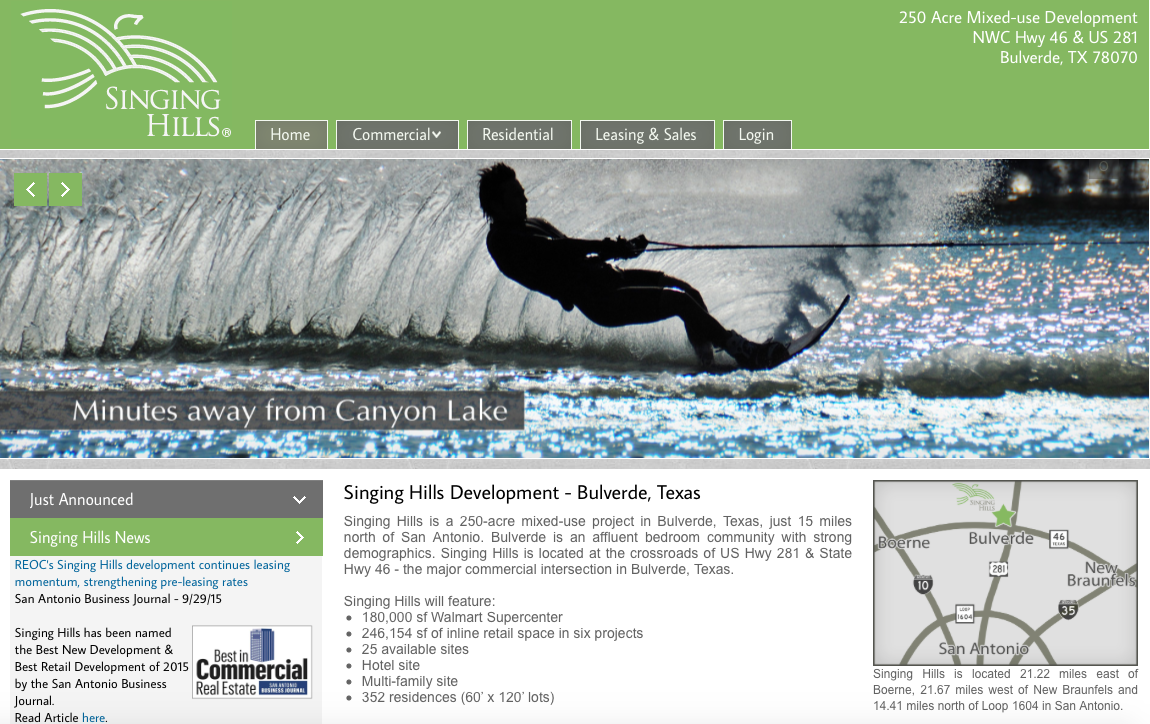 Singing Hills is a 250-acre mixed-use project in Bulverde, Texas, just 9 miles From Las Brisas at Ensenada Shores on and 15 miles north of San Antonio. Bulverde is an affluent bedroom community with strong demographics. Singing Hills is located at the crossroads of US Hwy 281 & State Hwy 46 – the major commercial intersection in Bulverde, Texas.
Singing Hills will feature:
180,000 sf Walmart Supercenter
246,154 sf of inline retail space in six projects
25 available sites
Hotel site
Multi-family site
352 residences (60' x 120' lots)
http://singinghillstx.com
Canyon Lake, renowned for its sparkling azure waters in the beautiful Texas Hill Country, sits conveniently between the cities of Austin and San Antonio and minutes from the towns of New Braunfels and Gruene. Nestled among the rolling hills and limestone bluffs, this sparkling jewel of nature is one of Texas' most scenic lakes. Formed by the Guadalupe River when Canyon Dam was completed in 1964, it has quickly become known as the Water Recreational Capital of Texas.Canyon Lake is more than 8,300 acres in size with 80 miles of shoreline. Two full service marinas and twenty-three boat ramps provide easy access, and controlled release of cool waters into the Lower Guadalupe River from Canyon Dam sustain rainbow trout fishing throughout the summer. In addition, Canyon Lake offers boating, sailing, water skiing, kayaking, bass fishing, and scuba diving.
Learn more about Canyon Lake recreation facilities…
Discover your Personal Paradise
in the Texas Hill CountryIf you've ever dreamed of leaving the frenzied activity of the city for the peacefulness of the Texas Hill Country, but still want access to an airport, medical, and shopping facilities, Las Brisas on Canyon Lake is the premier Texas Hill Country address. Here our homeowners enjoy the serenity of the Texas Hill Country without giving up the attractions and conveniences of nearby cities. Located on the preferred south shore of Canyon Lake, Las Brisas is only 30 minutes north of San Antonio, one hour southwest of Austin and 15 minutes from New Braunfels.
New Braunfels: travel time 15 minutes
The City of New Braunfels is home to many world famous tourist attractions including the Guadalupe River. The city overflows with old world heritage and small town charms – visit the nationally registered Historic District of Gruene and enjoy wine tasting, shopping, dining and dancing.
San Antonio: travel time 35 minutes

San Antonio
captures the spirit of Texas. Now the eighth largest city in the United States, the city has retained its sense of history and tradition, while carefully blending in cosmopolitan progress. For history buffs, San Antonio is home to the noted Alamo, an old mission where a small band of Texans held out for thirteen days against the Centralist army of General Antonio López de Santa Anna. For families, romantic escapes and relaxing getaways, San Antonio can't be beat.
Austin: travel time one hour

Austin
is nestled among the rolling hills and lakes of Central Texas. It is home to the seat of state government, the University of Texas and an entertainment complex that includes the best of live music, the arts and all the fun of the great outdoors. Opportunities for recreation abound. From cool, spring-fed swimming holes to Ben Crenshaw-designed golf courses, from area team sports to a walk in the beauty of Austin's natural settings – there is always something going on to get you onto your feet.
Other Hill Country Attractions, Shopping and Activities
Make the Most of Your Visit to Las Brisas
The only way to truly appreciate the exclusivity and luxury of Las Brisas is to experience it yourself. Come stand on the hill tops and immerse yourself with in natural wonder and beauty of your future homesite.
Contact us online
or call now 877-427-LAKE (5253) to set up your appointment for your private tour.
The office is open seven days a week from 10 a.m. to 6 p.m.Make the most of your visit to the
Canyon Lake
area. Below is a list of local accommodations, restaurants and shopping for your trip-planning convenience. Interested in staying a few extra days? Jump-start your planning with information on activities near Canyon Lake and throughout the
Texas Hill Country
.
Bed and Breakfast
Holiday Lodge on Canyon Lake
537 Skyline Drive, Canyon Lake, TX 78133 • 830-964-3693
The Lakehouse Bed & Breakfast
1519 Glenn Drive, Canyon Lake, TX 78133 • 866-616-LAKE
Biscuit Hill Bed & Breakfast
717 Colleen Drive, Canyon Lake, TX 78133 • 888-998-9909
GreensKeeper Inn
451 Watts Lane, Canyon Lake TX 78133 • 877-473-0950Dining
Huisache Grill
303 W. San Antonio Street, New Braunfels, TX 78130 • 830-620-9001
A popular downtown New Braunfels spot, this restaurant offers fresh, simply prepared, eclectic cuisine in a comfortable, casual setting. A beautifully restored circa 1870 Tietze Cabinet Shop and the Wine Bar Room are also on site and a variety of live soft jazz music is featured on the weekends.
Liberty Bistro
200 N. Seguin Avenue, New Braunfels, TX 78130 • 830-624-7876
Liberty Bistro serves Contemporary American Cuisine with a seasonally changing menu focusing on wild seafood, local meats and produce from small farms. Everything is made in-house including all bread, pastas, and desserts – emphasizing quality over quantity.
Myron's Steak House
136 N. Castell Street, New Braunfels, TX 78130 • 830-624-1024
Specializing in prime, mid-Western, corn fed beef, this steakhouse is located in the old Palace Movie Theatre and serves choice Chicago prime beef nightly for dinner, complemented by full bar services, as well as by an extensive wine list featuring wines by the glass and by the bottle. Reservations are recommended.
Gristmill River Restaurant and Bar
1287 Gruene Road, New Braunfels, TX 78130 • 830-625-0684
Located right behind the legendary Gruene Hall and built in the remains of the old Gruene Cotton Gin, this restaurant overlooks the scenic Guadalupe River and features inside and outside dining, a full service bar, a Lone Star fireplace, and a beer garden. An extensive menu of American cuisine, such as appetizers, sandwiches, soups, desserts, and beef, chicken, and fish dishes is served in a casual, relaxing atmosphere.
Italian Garden Café
18220 FM 306 Canyon Lake, TX 78133 • 830-935-3704
The Italian Garden is a must try! Considered one of Canyon Lake's best eateries, the Sicilian menu includes lasagna, manicotti, ravioli, "the best pizza around!!!" according to a Citysearch reviewer, and much more.
The Vineyards Restaurant
27315 FM 3009 San Antonio, TX 78266 • 830-980-8033
Tucked away amid the junipers and limestone ledges of the beautiful Texas Hill Country, The Vineyards Restaurant offers a unique dining experience in a quiet romantic setting that no one ever visits just once. Offering new American cuisine and a complete wine list highlighting Texas wines, you are sure to enjoy a one of a kind dining experience.
Gruene River Grill
1259 Gruene Road, New Braunfels, TX 78130 • 830-624-2300
A wonderful selection of mouthwatering dishes served in generous portions is featured at this restaurant that offers signature dishes such as fall-off-the-bone Hawaiian style ribs, philly cheese steak sandwiches, crispy shrimp won tons, and handmade lasagna. Visitors are invited to dine on one of the patios overlooking the scenic river.
Granzin's Bar-B-Que
954 W. San Antonio, New Braunfels, TX 78130 • 830-629-6615
Featured on "Good Morning America," this family barbecue restaurant offers a wide menu of good old-fashioned barbecue such as sandwiches, plates, family packs, and barbecue by the pound. They also offer full catering services.
River House Tea Room
1617 New Braunfels Street, New Braunfels, TX 78130 • 830-608-0690
Open daily for lunch, this quaint tea room and restaurant is located in a beautiful turn-of-the-century house and serves a delicious array of sandwiches, chicken dishes, soups, and salads in a romantic atmosphere. Outdoor dining is also available.Shopping & Services
Super S Foods
Startzville –
8010 F.M. 2673, Canyon Lake, TX 78133 • 830-899-8574
Sattler –
1345 Sattler Road, Canyon Lake, TX 78133 • 830-964-3231
GROCERIES – MARKET – HEALTH FOODS
Whole Being Market
Organic Foods & More – WE DELIVER!
Canyon Lake, TX • 830-200-6400
GROCERIES – MARKET – HEALTH FOODS
Hill Country Office & Printing
1486 F.M. 2673, Canyon Lake, TX 78133 • 830-964-4007
OFFICE EQUIPMENT & SUPPLIES
Canyon Lake Ace Hardware
1150 F.M. 2673, Canyon Lake, TX 78133 • 830-964-2797
HARDWARE
Canyon City Animal Hospital
13755 F.M. 306, Canyon Lake, TX 78133 • 830-964-3551
VETERINARIAN